The Metal Roof Installation Experts Serving Dallas, TX, Homeowners
Although it isn't quite as popular as asphalt shingles—the most widely used roofing material in the United States—metal roofing isn't something homeowners should write off when it's time for a new roof. In fact, metal roof installation can be quite advantageous for Dallas, Texas-area homeowners. The metal roof installers at White Rock Roofing are ready to help you tap into metal's numerous benefits with top-quality products and some of the finest service in the area.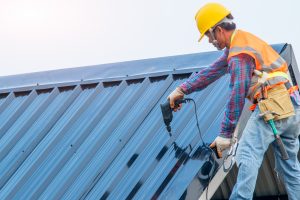 Why You Should Consider Metal Roofing
A metal roof installation can be a fantastic long-term investment for many reasons. Here are some important things to know about this material:
Metal roofing is best known for its longevity, as it can last 40 or more years depending on the metal used. This is, on average, more than double the lifespan of asphalt.
Metal roofs are light, which makes it easy for your roofing structure to handle its weight—and easy for our roofers to install.
Despite how lightweight metal is, it's durable and is also resistant to fire. Metal roofing also requires less frequent maintenance than other materials.
You'd be hard-pressed to find an eco-friendlier option than metal, which is entirely recyclable and is great at reflecting solar heat. The latter means you may see a reduction in your monthly cooling costs.
A Reliable, Local Metal Roofing Contractor
White Rock Roofing is proud to be the metal roof replacement company of choice in Dallas, TX. How did we earn the trust of so many local homeowners? Because we:
Use products from industry-leading manufacturers
Will bring your new roof up to current building codes
Possess unmatched craftsmanship and hold numerous certifications
Are a fully licensed contractor
Guarantee your satisfaction and offer a five-year labor warranty
Provide punctual, honest service
Learn More About Metal Roof Installation
Reach out to White Rock Roofing today if a metal roof installation sounds like the right move for your Dallas, TX-area home.