The Company to Trust for Top-Notch Roof Repair Services in the Dallas, TX, Area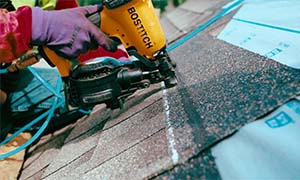 If the roof over your property has been damaged, that doesn't necessarily mean it must be fully replaced. At White Rock Roofing, we focus on delivering customized solutions for our customers and all their roofing needs. That's why we offer expert roof repair services for our customers in the greater Dallas, Texas, area. We understand the value of preserving your existing roof when a replacement is not necessarily warranted. We're a locally owned and operated company, which means you can count on us to provide top-notch service from start to finish for a roof repair experience like no other.
Our Roof Repair Services
Roof leaks and failures can be more common than you'd think—anything from your chimney and flashing to an improperly installed roof can lead to a cause for concern. While some roofing contractors will push the idea of a costly roof replacement on customers with damaged roofs, we understand that a replacement isn't always needed. In many cases, roof repairs may be a viable option. That's where we come in, helping with:
Emergency Repairs
When time is of the essence, we are here to assist. Our emergency roof repair services can help prevent damage from worsening and potentially restore your roof's protective abilities.
Roof Inspections
A roof problem can be hard to detect, but our team of experts is specially trained to see damage that you might not be able to. We make sure we address every potential area of concern, then communicate it all to you to determine the best path forward.
Diagnosis & Repair
Once we find the cause of your roofing problem, we will recommend the best course of action. From there, we will get to work on repairing your roof or completing a roof replacement if repairs can't do the trick.
Turn to the Local Roof Repair Specialists
Has your roof seen better days? If so, the team of roof repair experts at White Rock Roofing can help. As a full-service roofing company, we provide solutions for all your residential roofing problems, from repairs and replacement to roof maintenance and even gutter installations. Contact us today to learn more about our services for residents of Dallas, TX, and surrounding communities.