Solar Panel Installation Services for Homeowners in Dallas, TX & Surrounding Communities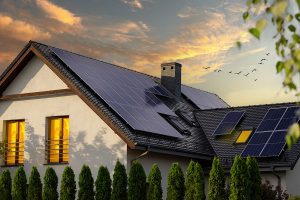 Are you thinking about replacing the roof over your home in the Dallas, Texas, area? If so, it's a great time to go solar. As energy prices continue to rise, solar systems are becoming more and more popular among homeowners, and for good reason: Solar is a less expensive, cleaner, and all-around better energy solution. Plus, installing renewable energy equipment can add value to your home and qualify you for a federal tax credit of up to 30% of your total cost.
Of course, there are many solar companies out there, and it's essential to choose wisely to ensure you will achieve the maximum benefits of solar powering your home. A locally owned and operated roofing company, White Rock Roofing offers bundled roofing and solar services with no money down. This means you can streamline your financing with one loan for both projects.
Roofing & Solar Go Hand in Hand
At White Rock Roofing, we recommend installing roofing and solar together. Here's why: If you're replacing the roof on your home, it makes sense to add a solar energy system at the same time because the solar savings on your energy bills will help pay for the roof. What's more, both products are designed to last for decades, so by installing them together you will "align the life cycles" and ensure worry-free performance from both for years to come.
Here's how our process works: The experienced team at White Rock Roofing will inspect your roof to confirm that it is a good candidate for solar. If so, we will review your utility bills to analyze your energy consumption and determine the optimal solar system configuration for you. Then, we will estimate your energy savings over time and show you how the recommended solar system would look on your home.
At White Rock Roofing, we provide honest roof replacement services and eco-friendly solar energy solutions. Why not own your energy production by harnessing and using the unlimited power of the sun? Contact us today to schedule a complimentary on-site inspection and estimate at your home in the Dallas, TX, area.