The Roof Replacement Specialists Serving Residents of Dallas, TX & Surrounding Communities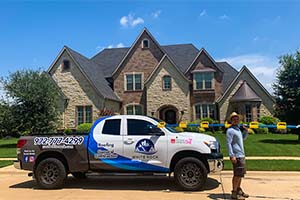 While roofs are designed to withstand plenty of potential damage, the average roofing system can't last forever. If the roof over your property has reached the end of its lifespan, White Rock Roofing is here to help. As a full-service roofing company, we provide expert roof replacement services to residents of the greater Dallas, Texas, area. We take a holistic approach to roofing, ensuring that every roof we work on isn't just upgraded but is also brought up to current building codes to deliver reliable protection that lasts.
Top-of-the-Line Options for Your Roof Replacement
At White Rock Roofing, we deliver custom roofing solutions that are specially suited for our local climate and conditions. When you turn to us for your upcoming home roof replacement, you'll be able to choose from an elite selection of roofing products sourced from renowned manufacturers like Owens Corning, IKO, Malarkey, and more. We carry premium options for:
Asphalt shingle roofing – The most common type of roofing in North America, asphalt shingle roofing is cost-effective, attractive, and durable.
Metal roofing – With benefits that include longevity that's hard to beat and optimal energy efficiency, metal roofing is an excellent investment that stands the test of time.
No matter which material you select for your roof replacement, you can rest assured that we'll be here to guide you through the entire process from start to finish. From completing a roof inspection to see if repairs would be an option for you to helping you select the right roofing product for your wants, needs, and budget, we're here for you every step of the way. We even offer an outstanding five-year labor warranty to provide you with complete peace of mind about our work.
Get Your Roof Replacement Project Started
When it's time for a roof replacement at your home, White Rock Roofing is the only contractor you'll need to call. Contact us today to learn more about our roof replacement services for residents of Dallas, TX, and surrounding communities.