The Gutter Repair Experts Serving Dallas, TX-Area Homeowners
Have your home's gutters seen better days? If you've noticed any warping, cracking, or bulging throughout your gutters, you need to move quickly and hire a gutter repair company like White Rock Roofing. Our highly skilled team of technicians can quickly get your home's gutters back to their former glory, restore your home's curb appeal, and protect it from what could turn into costly water damage.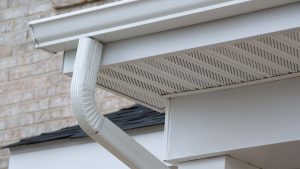 Why You'll Need to Schedule Gutter Repair Service Quickly
If it's not raining much and your gutters aren't getting much use, it's an excellent time to tackle your gutter repair project. Simply put, gutters do a lot more for homes than many people may realize. They safely redirect rainwater away from vulnerable areas of your home's exterior, such as the foundation, walls, and landscaping. If all or even part of your gutter system is in bad shape, the next rainfall could lead to a big problem.
White Rock Roofing's residential gutter repair team will gladly inspect your gutters from top to bottom. If your gutters can be repaired, we'll handle the work with the utmost precision and care. And because we'll be on your roof to get the best possible look at your gutters, we'd also be happy to perform a roof inspection at your request.
Gutter Repair & More
With White Rock Roofing, your options aren't limited to just rain gutter repair. We also offer other helpful services:
Gutter Replacement
Whether your gutters are too damaged to be repaired or they've simply fallen out of style, we can fix that. White Rock Roofing installs seamless aluminum gutters, which we roll on site to fit any home perfectly.
Gutter Protection
Has your infrequent gutter cleaning led to a repair? We know how annoying this necessary chore can be—which is why we offer a way around it. Call us for gutter guards that will keep leaves and other debris from entering your gutter trough, and their low profile keeps them from being an eyesore on your home.
Schedule a Gutter Repair Consultation Today
If it's time for a gutter repair project at your Dallas, TX-area home, White Rock Roofing is the name to know. Reach out to us today to get started.